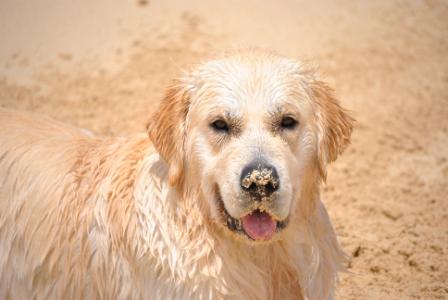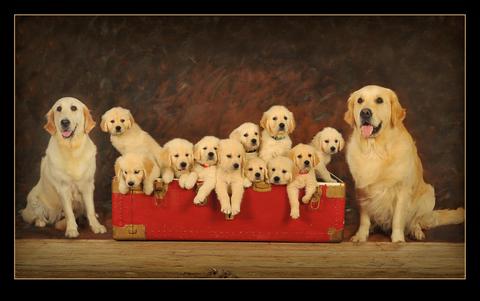 Welcome to Autumn Lake Golden Retrievers which features the Lounsberry family (four and two legged). Yes, as of 2022 we are still breeding litters of golden retriever puppies English and American Style. We were a military family, so our dogs were well traveled.  We breed and show English and American style golden retrievers.  They are NOT DIFFERENT BREEDS! ENGLISH STYLE AND AMERICAN STYLE GOLDEN RETRIEVERS ARE ALL JUST GOLDEN RETRIEVERS. There are slight differences in the look and temperament between the two styles. The golden retriever breed was developed in Scotland and all goldens no matter where they are now, were imported originally from Scotland. English and American style goldens both come in the full range of colors from very light creme to deep red. 
We are members of the American Kennel Club, Italian Kennel Club,  the Golden Retriever Club of America, the Golden Retriever Club of Hawaii (former vice president), the Golden Retriever Club of Italy, and the United Kennel Club.  We are continuing a golden retriever line started in Australia 23 years ago by Lillian Robinson of Glenregal Kennels. Our "Wilson" and "Chinook" were the male and female "picks" of her last gorgeous golden litter. Their heads are picture perfect.  We also have our little sweetheart, "Dani" who comes from NZ and Australian champion lines from Montego Kennels. These three were the foundation of my English style golden line.
Havoc, our Champion and American type is grandson of the famous "Chaos" Rush Hill Run'n Amuk at Aberlard born in Italy of Leongolden Kennels.   We also have another Leongolden sweetheart, Leongolden's The Seven Ravens At AutumnLake, "Raven", born in Florida now that they moved. Her daddy is famous Gemini's Fallchase The Butler Did It "Cody". Top golden USA 2011, and came out of retirement to win Westminster best of breed 2013. We have quite a few American style goldens now, all from the Leongolden line. We will strive to breed for health, correct conformation, beauty, and sound temperament.We do OFA hip, elbow, eyes and heart clearances on our breeding dogs. In addition, we do several DNA tests for common diseases that effect our breed.

     The genetic make-up of each litter's parents are carefully studied to enhance and improve on each subsequent generation's health, structure, beauty and temperament. Puppies are raised in our home, receive early neural stimulation and are well socialized before going to their new families. They receive Vohlard personality testing at 7 weeks that help determine which pup will go to each family. They will have received needed veterinary care, immunizations, and temperament testing and microchips before leaving our home.  We keep in close contact with all of our puppy families to this day.

We have puppies! I am holding back a couple females to put in a pet home that I can use for breeding. Please contact asap.
     We are also looking for families that would be interested in a show or contract puppy/guardian family to be a part of my breeding program. Preferably a family that lives near me in Virginia, near a handler, or has show experience. These pups would come with perks like free boarding here, free training, and free grooming. Please let me know if this is something you would be interested in .
I have also started a new breeding mentorship program. If you have an interest in starting to breed golden retrievers the correct way, I would like to start a program where you purchase one of my female pups on full registration, and at the age of 2, I'll guide you through the process of gaining breeding health clearances on that female, stud selection, how to do an artificial insemination, how to take care of a pregnant bitch, how to whelp and raise a litter at your home, and how to find responsible caring families for your pups. For this guidance, I would ask for a third of the profits of your litters. I have 15 years of whelping experience, vet tech experience, and I was an emergency room nurse for many years. I have extensive medical and reproductive knowledge and have been mentoring for many years even experienced breeders.

Some of our males are available for stud side by side artificial insemination and shipped chilled extended semen. Please visit the other pages of our website or contact me by email or phone for more details. 717-580-7192. Lounsberrylaura@yahoo.com.