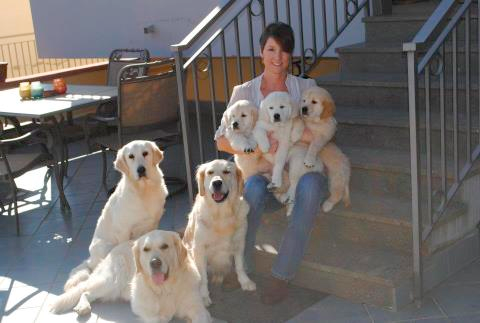 The Lounsberry family consists of myself, Laura, and my  children Kaitlyn, Sean, and Aidan.
  Our love of Goldens started in 1996 with our first golden, Alex.  I was a newlywed and  I bought Alex, and he quickly worked his way into our hearts and lives.  I had many different breeds of dogs growing up, saw many more working as a veterinary technician through college.  After Alex, though, I knew golden retrievers were the breed for me.  Their kind faces, beautiful coats, gentleness, athleticism, and intelligence won me over.  We lost Alex to a second round cancer in 2008.   I couldn't stand not having a dog in the family for too long, and started my search for a healthier line of Goldens.  That search took me all the way to Perth, Australia.  I loved the look of the Goldens from my now dear friend and mentor Lillian Robinson of Glenregal Kennels.  I liked the look of her English type litter with creamy coats,"blocky" heads, dark gentle eyes.  I also liked the fact that the grandparents of the pups were still in perfect health, and both parents were certified healthy hips, elbows, eyes, and hearts.   I bought "Wilson" from Lillian, started showing him as pup in Hawaii.  He is a lovely creme color, very strong, and has the most handsome head.  He showed very well in Italy and has many CAC's and CACIB's under his belt from national and international wins.

     Shortly after, I decided to get a female from Rose Easton's Montego Kennels, a well known show kennel in Sydney, Australia. Dani is a very near white golden, has a beautiful coat, and an even prettier disposition.
A year and a half later, Lillian chose not to breed Goldens anymore as it is a lot of work to whelp such large litters.  She gave me Wilson's sister, "Chinook", and she is the more delicate, feminine version of Wilson.   Wilson, Chinook, and Dani  have started showing as pups in Hawaii, continued on with their show career in Italy, and now are retired from the show world.  I have added Tio to my kennel. He is a beautiful very creme male with excellent pigment. Very English type and available for stud as well as a few others on contract in pet homes.. I don't do tons of showing as my family is still young, and we all have varied interests, but when I do go, my dogs have done very well.
I have recently started my American line of goldens. We are working closely with Leongolden Kennels originally from Italy but now relocated to Florida. We have purchased Havoc, Raven, and Poseidon from them and they have been showing well in America.
I also have also been blending English type with American type for a beautiful "fusion type". My "Skye" is a beautiful blend.

I guess now our friends consider us the "crazy dog people", but we would not have it any other way. We have moved to Chesapeake and have a beautiful house with 3 acres and a pool for the dogs (and us). We love enriching people lives with our beautiful, healthy puppies and contributing to the advancement of such a wonderful breed.